Hotel Photography for Maximum Results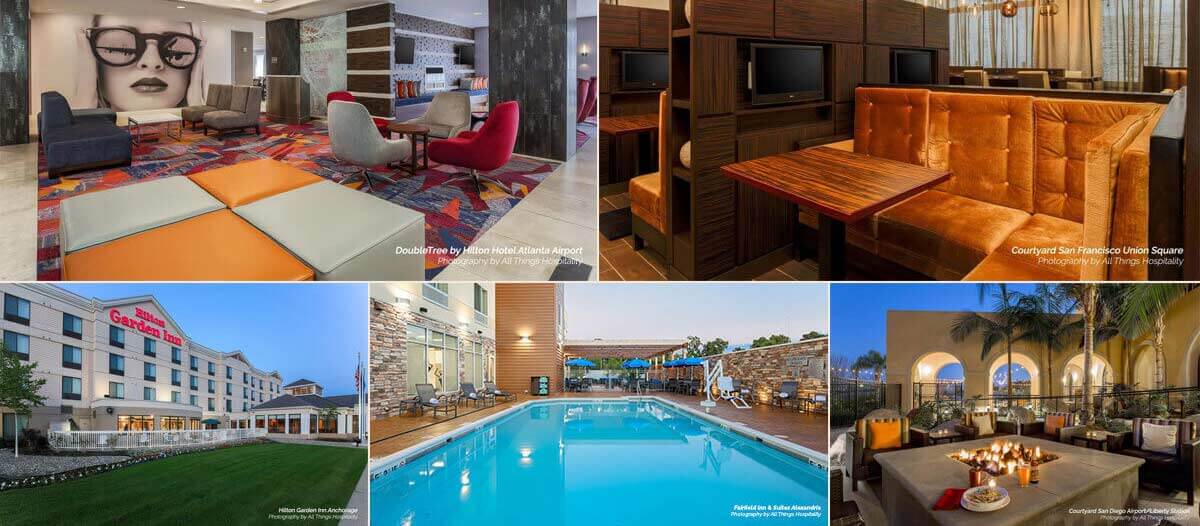 Hotel Photography for Maximum Results
Twenty-first-century travelers are more visually driven than ever before making your hotel photography a critical component of a modern marketing strategy.
The adage "A picture is worth a thousand words" could be updated to "and thousands of room nights".  Numerous studies by major brands and third-party booking sites emphasize the importance of your hotel photography, showing the number and quality of images directly affect online conversion rates.  In fact, an ROI MANAGER study found 97.6% of guests clicked on photo galleries before booking online.  Additionally, a recent TripAdvisor study emphasized the importance of quality and quantity, reporting hotels with 20+ hi-res photos receive 150% more traveler engagement and a 22% increase in booking inquiries.
Plan Ahead for Maximum ROI
The evidence is clear – investing in professional photography will pay dividends in increased conversions.  How can you ensure your photos are high quality and will engage potential guests?  These five critical steps will help you maximize your hotel photography investment.
1. Select the Right Photographer
Maximize return on your investment by hiring a professional that specializes in hotel photography. Just because a person owns a professional-level camera does not make them a professional.  All photographers do not follow the same methods.  An experienced professional hotel photographer will be familiar with the type and style of images that best sell your hotel experience.  An exceptional photographer will guide you through the planning and preparation process to optimize the project and execute the session efficiently.
2. Make Sure your Photographer Knows Brand Guidelines
Ensure the images captured during your session can be used on your brand website, as well as other websites and marketing efforts.  Images that do not meet your brand guidelines may be refused by your brand's eCommerce or marketing department, minimizing the potential return.  A professional hotel photographer should be familiar with your brand's guidelines and understand how to shoot according to your brand's style guide.  An exceptional photographer will provide guidance in this process.
3. Plan Early for your Session
As soon as you choose a photographer and book your session, begin planning immediately.
Pre-block guest rooms that accurately depict the best of your hotel's offering
Communicate the session dates to your operations and sales team so they can participate in planning and preparation
Block meeting space to be used during the session
Inventory guest room and meeting space linens; place linen orders as needed
Coordinate landscaping service, food orders, retail inventory replenishment, floral arrangements (if allowed by your brand), and any specialty items that may be needed
Photography sessions often begin at sunrise, so plan to have all services completed and orders received at least one day prior to your session.  Check back for our detailed Hotel Photography Preparation Guide to be posted here in the next few weeks.
4. Show Guests What They Want to See
Plan your shot list to meet your brand guidelines and to showcase the most important features of your hotel.  A white paper based on a study commissioned by Expedia, "Hotel Images Matter," found that room images—more than lobby, restaurant, meeting space and exterior shots—were the primary driver of bookings based on visual aspects.
Ask your sales team what images they need to better sell to your most important sales-driven segments.   Do you need additional meeting space images in multiple sets?  Are there specific amenities or features that are often requested by certain group segments – i.e. fold out sofa beds or connecting rooms?
5. Prepare – Prepare – Prepare
Over the last 10 years the All Things Hospitality team has photographed hundreds of hotels for most major brands.  Through this experience, we've identified 12 critical steps to prepare your hotel for the best possible results from your photography session.
Following these five steps for hotel photography planning will help maximize your photography investment.  If you aren't sure your photography is effectively selling your hotel, contact the All Things Hospitality team for a free photography evaluation.  The ATH team specializes in hotel photography and helps guide hotel teams through the planning and execution of a successful hotel photography session.  For more photography tips, visit the Photography section of the All Things Hospitality blog.