5 Tips to Prepare for your Professional Hotel Photography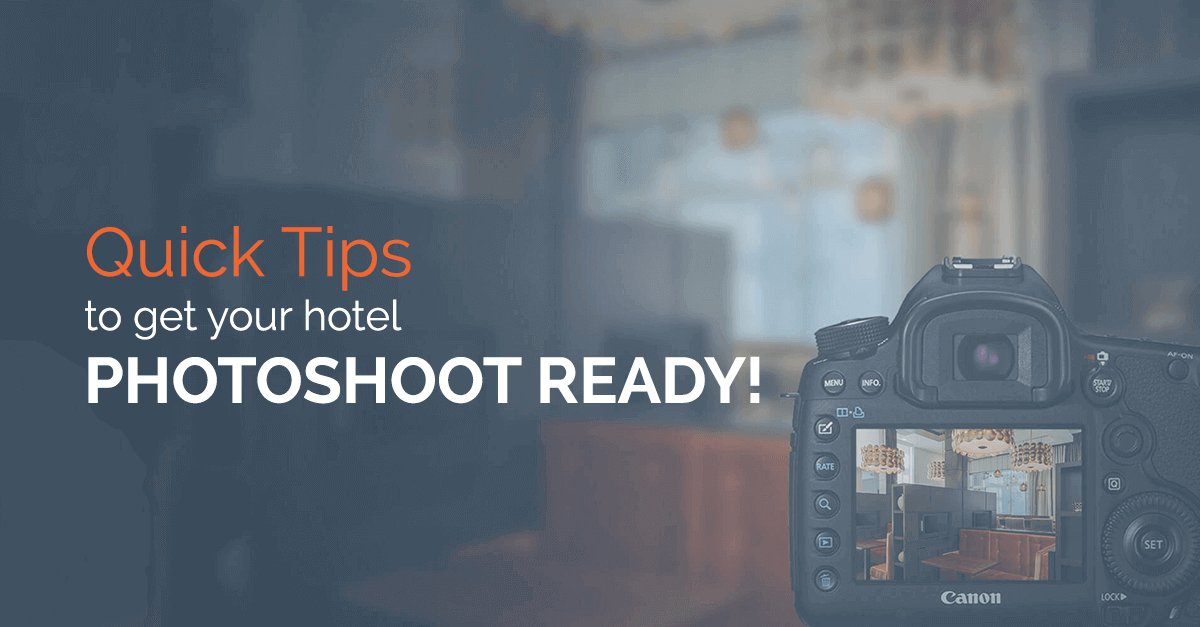 5 Tips to Prepare for your Professional Hotel Photography
A picture is worth a thousand words, but are yours worth a thousand guests? Statistics show the number and quality of images directly affect conversion rates on all digital channels.  All Things Hospitality hotel photographers are experts within the hospitality industry. They know exactly how to capture images that will sell drive conversions on all your booking channels.
After selecting the right photographer, preparation is the most critical step in a successful hotel photography session. A hotel room prepared for professional photography looks different than a room prepared for a guests' arrival. Follow these steps to get your hotel guest room photo-ready.
1. Select the Right Guest Rooms
Guest room selection is about more than just finding your "BEST" guest rooms.  Light plays a critical role in the final image quality.   Too much natural light can wash out the space and result in overexposed areas that detract from the final image quality.  Too little light can make the space feel dark and lifeless.  Determining which guest rooms to select is based completely on the time of your session.  Follow this rule of thumb:
MORNING SESSION: Block guest rooms with WEST-facing windows.
AFTERNOON/EVENING SESSION: Block guest rooms with EAST-facing windows.
North-facing rooms typically offer softer light; however, this can change with the season.
If you aren't sure which location is best, visit your guest rooms during the scheduled time of your session.  If there are beams of light on the floor, or harsh light in the window, select a guest room on the opposite side of the building.
Additional selection tips:
Rooms with higher ceilings photograph better
If some room types are only available in undesirable locations for the shoot time, try to locate rooms with obstructions in front of the window to help block some light.
Communicate with your photographer and don't be afraid to ask questions.
Now that you have selected the best guest rooms, make them picture perfect with detailed preparation. If your session is scheduled for the morning, guest room preparation should occur the day prior to your session as early dawn offers the best light. Guest rooms for afternoon/evening sessions can sometimes be prepared the day of the session, depending on your start time and anticipated occupancy.
2. Linens and Pillows
Professional photography lighting puts out thousands of watts of light, amplifying the smallest wrinkles!  We recommend ironing all visible linen including: Bed Skirts, Pillow Cases, Curtains, and Cloth Shower Curtains. Steam is your best ally in removing wrinkles.   If your area is humid, leave the climate control on to keep linens fresh and crisp.
Tips & Tricks:
Iron bed skirts without removing them from the bed!  Place an ironing board at approximately 1-foot height and drape skirt over it.
Brand new, never used linens are typically creased – always plan to iron!
Always use your fluffiest pillows.  Foam pillows typically offer the best look.
Give feather and down pillows more body by stuffing a towel in the back of the pillowcase.
3. Remove Light Bulbs
Guest room lighting is designed to provide a homey, warm space.  This warmth can cause an over concentration of yellow in your final images.   ATH photographers use bulbs color balanced for photography, so we ask that you remove the light bulbs from lamps and wall sconces in guest rooms to be photographed.  This includes incandescent and CFL bulbs.  Do not remove bulbs from the guest bath or ceiling fixtures.
Tip: To avoid last-minute issues, place all light bulbs in a drawer in each guest room.
4. Remove all Print Collateral
Many brands prohibit print collateral in guest room images – its presence can date images and pieces often appear as clutter in images.  Place all print collateral in a drawer (TV channel guides, movie guides, guest directory, internet info, menus, etc.)  Guest bath amenities and coffee makers should be in the space.  Consult your brand photography guidelines for specific direction.
5. Guest Room Contents
ATH photographers focus on shooting images that sell your guest rooms and their amenities.  Ensure all rooms to be photographed have a full inventory of furnishings and accessories such as throw pillows, end tables, desk chairs, etc.  All-suite properties: Ensure glassware, dishes and silverware match and each room has a full set. They may be used in the images, depending on your brand image guidelines.
While guest room images are viewed most often by prospective travelers, public areas are also important in selling your hotel.  Read Part Two of 12 Steps to Prepare for your Hotel Photography session.