San Diego Hotel Photography Portfolio by All Things Hospitality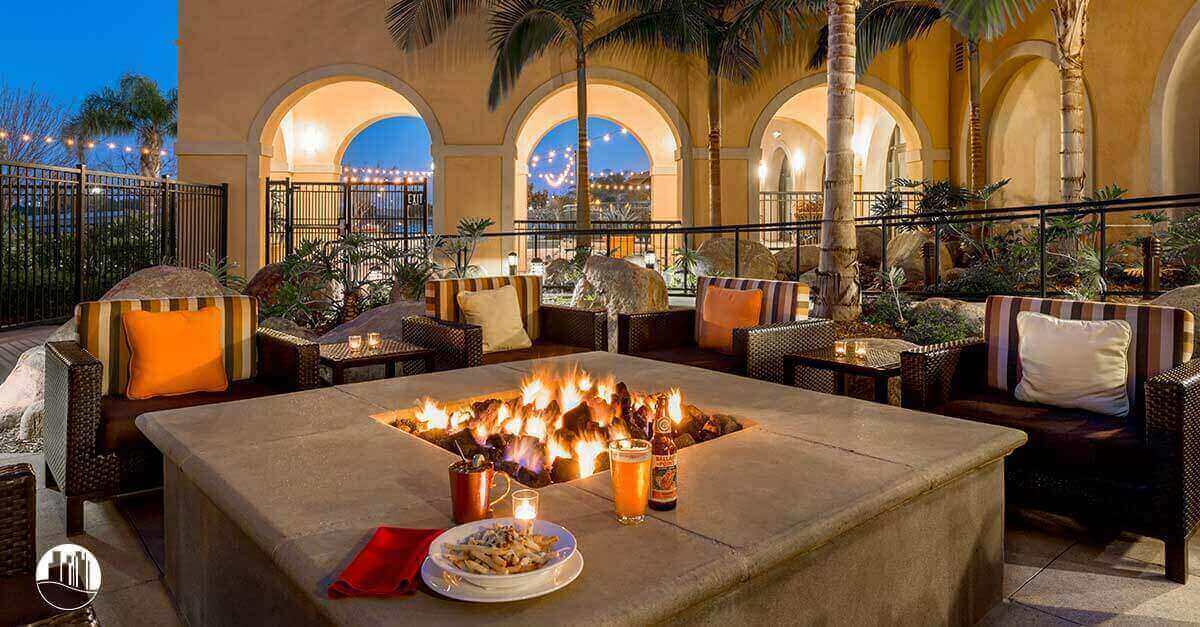 San Diego Hotel Photography Portfolio by All Things Hospitality
All Things Hospitality is pleased to present its portfolio of hotel photography captured at the newly renovated Courtyard San Diego Liberty Station. All Things Hospitality was retained by the hotel's Dallas-based management company, Huntington Hospitality Group, following the hotel's multi-million-dollar renovation completed in early 2016. Once a Naval Training Center, Liberty Station was repurposed for unique housing, shopping, dining, office space, and event venues, following the City of San Diego acquisition of the base in 2000.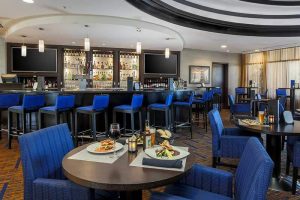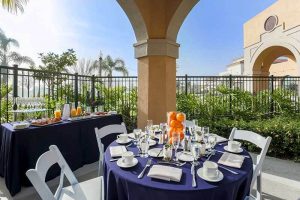 The All Things Hospitality hotel photography team was tasked with conveying the classic Courtyard amenities and brand hallmarks, while illuminating the unique features and outstanding location of this waterfront hotel. The ATH hotel photography team worked closely with the hotel's professional sales and catering team to define and capture the primary message they wished to convey. The refreshing new portfolio of images is slated for use in digital, social and analog campaigns in the coming years.
A custom implementation of Courtyard's signature Bistro – Eat. Drink. Connect dining concept sets the hotel apart from fellow Courtyard properties. Hotel dining options include the classic Courtyard breakfast buffet space, a stand-alone Bistro bar with direct access to the hotel's relaxing patio area overlooking the lush grounds, pool and the captivating San Diego bay. The Bistro Café rounds out the hotel's food and beverage outlets and presents a unique meeting venue.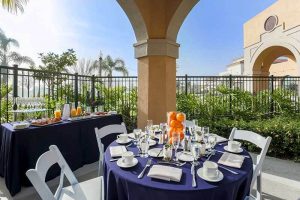 The renovation also included updates to the hotel's 6,264 square feet of unique meeting space. The hotel's prime Liberty Station location overlooking San Diego Bay, offers meeting planners and wedding groups unparalleled views paired with glorious Southern California ambiance.
Guest room updates included implementation of Courtyard's new Cynergy decor package. Featuring soothing grays energized by pops of golden hues and vibrant jewel tones, the transformed guest rooms are the ideal retreat after exploring San Diego. Guests don't need to venture far for the experience as Liberty Station is home to five different districts to explore: The Arts District, The Quarter, NTC Park, The Neighborhood, and South Point.
Visit Marriott.com to book your stay at the Courtyard Liberty Station. Visit the All Things Hospitality website to view more hotel photography galleries featuring their work with Courtyard and other major hotel brands and schedule your hotel photography session. Find out how your hotel's current photography stacks up against your brand requirements with ATH's free hotel photography analysis.
About Courtyard San Diego Airport/Liberty Station
The Courtyard San Diego Airport/Liberty Station has 200 spacious waterfront hotel rooms with vibrant and modern décor. The redesign of the beautiful hotel includes, complimentary wireless/wired internet, iHome docking stations, 40" HDTVs, luxurious Marriott bedding and more. The Courtyard San Diego Airport/Liberty Station also has a total of 6,264 Sq. Ft of event space spread out across three different event rooms. The banquet hall and event hall can accommodate up to 400 people, and the San Diego Wedding ballroom can accommodate up to 300 people. Guest are encouraged to dine at the stylish on-site restaurant, bar, or waterside BISTRO, where guests can choose between indoor and outdoor seating.
About Huntington Hotel Group
Huntington Hotel Group was founded in 1998 and has developed 13 hotels over the past 14 years and currently operates a portfolio of 24 hotels in six states. They are a leader in hotel development and management and are comprised of numerous select service brands including Courtyard by Marriott, Residence Inn by Marriott, SpringHill Suites by Marriott, Homewood Suites by Hilton and Hilton Garden Inn. They provide operating, asset management, accounting and financial services for hotel owners. Visit HuntingtonHotelGroup.com for more information.
About All Things Hospitality
All Things Hospitality is a DFW-based boutique marketing agency focused exclusively on the needs of the hospitality industry. Hotel marketing services include web design and development, architectural hotel photography, brand strategy, print collateral, digital marketing, social media and reputation management. Read more at the company's website, AllThingsHospitality.com.