Increase Exposure with Snapchat Geofilters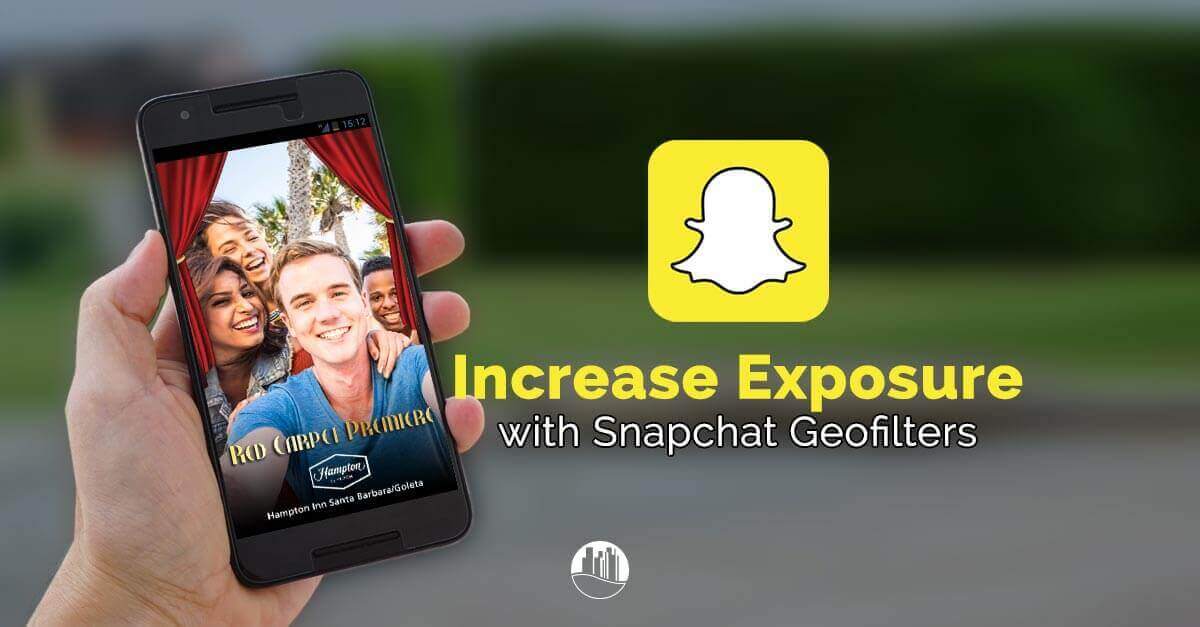 Increase Exposure with Snapchat Geofilters
With its valuation now in the billions and growing daily, it's clear Snapchat isn't just a passing trend. Snapchat ads are viewed up to a million times per day and video views have now exceeded Facebook's. With over 160 million[1] daily active users worldwide who share over 9,000 'snaps' every second, Snapchat has surpassed Twitter's user count. The diversity of the Snapchat audience is growing too, with 60% of its users between the ages of 18 and 34[2].
How can you leverage this powerful tool in your arsenal of social marketing tools? Geofilters is a great way to start.
What are Geofilters?
On-Demand Geofilters are image overlays with your design that users can add to their photos and videos when they are near your location. When the user selects your Geofilter your custom image overlay is applied to their Snap. The user then shares their Snap with their community, sharing your brand along with it, potentially extending your exposure to a whole new audience.
Getting your own Snapchat Geofilter
To get your business's Geofilter approved, there are basic guidelines you must follow. Visit Snapchat's Geofilters page for more on the Submission Guidelines.
The Design
The right design is critical to getting the most out of your Snapchat Geofilter. Be true to your brand and get a unique look that will catch the user's eye. For the creatively gifted, there are several tools out there that can help you design your own Snapchat Geofilter. If creativity isn't your forte or you have better ways to spend your time, a professional designer can help bring your idea to life.
The Location
Once your design is complete you will need to decide on the 'fence' for your Geofilter. This 'fence' is the boundaries in which your Geofilter will be displayed. You must select a minimum of 20,000 square feet and stay under 5 million. The area you select will depend on your event or promotion. Typically it's a good idea to include 1 to 2 blocks beyond your location to get your event in front of users in the vicinity.
The Time
With a design and now a location, you must designate a time for the Geofilter to be live. It's best to add an hour or two before and after your event or promotion period. The specific range will depend on the goal of your event or promotion.
The Results
After your Snapchat Geofilter has run its designated schedule you will have access to your Geofilter's analytics. See how many people viewed your Geofilter, how many people USED your Geofilter, and how many USERS were sent a 'snap' using your Geofilter.
Need Help?
All Things Hospitality's team of professional designers can create a custom Snapchat Geofilter for your business's next event. ATH has put together the ideal Snapchat Package to affordably boost your social media exposure for your brand and event while your guests have fun!
Our Geofilter Package is ideal for:
Weddings
Renovation / Relaunch Events
Banquets
Reunions – Family, Class, and Military
Grand Opening Parties
And so much more!
What's Included
Custom filter designed to match the event theme

available for use starting two hours prior to the event time and ending two hours after the event is scheduled to end
Geofilter fence up to 40,000 sq ft (guests can only see your filter when they are within the fence)

12" x 24" lobby poster promoting your filter to your attendees
Information about the filter added to any other event pieces designed by ATH
Trackable results! See how many times the filter was used and how many views it received.
Contact All Thing Hospitality Today to order your Custom Snapchat Geofilter Package.
[1] Snap Inc. Reports First Quarter 2017 Results. https://investor.snap.com/news-releases/2017/05-10-2017-210059250.
[2] Snapchat For Business https://forbusiness.snapchat.com/